Thursday, December 1st, 2016
---
8:00 am
- December Talking Meme: Day 1
promiseoftin asked 'What got you into journalism/writing'? This was a bit of a complicated, two-stage process. It's also worth saying that, aside from blogging and the odd bit of reviewing on my reviews blog, I'm not really a writer or journalist any more. But I was for a long time, and for a longer time before that, it was the only career I imagined for myself, and everything I did was geared towards becoming a reviewer/journalist.

I have to admit that, in hindsight, the main reason I gravitated towards journalistic writing as a career was the fact that both my parents are journalists. My father is a very prominent Australian political TV journalist, and my mother is a radio broadcaster; both have been working as journalists for over forty years. Growing up, basically all the adults around me were journalists, so that I developed this unconscious perception that to be an adult with a job meant being a journalist. It helped that reading, writing, and analysing the written word came naturally and easily to me, and that I was encouraged in this, particularly by my mother, who was always telling me that as long as I could write, I would always have a job. By the time I was in my teens, she was pushing me to submit reviews to newspapers and write for student papers, and I was enthusiastically doing so.

That is what underlay my entry into journalism and writing - parental example and encouragement. How I actually started working in this field is quite an embarrassing story. At one point, when I was sixteen, I was having yet another discussion with my mother about books, sparked by what I believed to be a terrible review of my favourite book series, His Dark Materials, in the weekend edition of the Sydney Morning Herald newspaper. Mum, who was always one to push and encourage me in ambitious directions, said that I should write a letter to the reviewer explaining why her review was flawed. I wrote an incredibly pompous letter to this poor woman - the children's book editor of the Sydney Morning Herald! - and, to her credit and my eternal shame, she wrote back. Instead of telling me I was being ridiculous (which was very kind, given that in the letter I accused her of not having read the book she reviewed), she asked me if I thought I could do a better job, and offered me the opportunity to review The Amber Spyglass along with two other books that had been my favourites of that year. My review was duly published in the Sydney Morning Herald's yearly roundup where multiple reviewers talked about their favourite books of the year, and I was paid normal reviewer rates. Please, please, people trying to get into writing and reviewing - don't do what I did. I found the letter years later when clearing out my room at my mum's house, along with the letter the editor had written back, and it was absolutely mortifying to read. Most editors are not going to behave like her!

That review was a one-off. I didn't really get a permanent newspaper reviewing foothold until, about two years later, I was having another discussion with my mother about books, writing, and ideas, sparked by a documentary on Roald Dahl that was playing on the TV in the background. I was insisting to my mother that J.K. Rowling owed a debt to Dahl, and that the Harry Potter books were part of a clear tradition of British children's literature that also included Charles Dickens. Mum suggested that I pitch this idea to various newspapers, and, as a new Harry Potter book was about to be published, one paper - The Canberra Times - eventually agreed to publish it. What followed was a ten-year career writing reviews for that paper. They were a great paper to write for, because, until 2013, they had the most amazing literary editor, who was incredibly supportive of her writers, gave me pretty much free rein to write about whatever I wanted, interview whoever I wanted and review whatever I liked in however many words I saw fit, and would make space in the paper for any review, interview, or commentary piece, whatever the length. She was a real mentor to me, and really helped me find my voice as a writer and improve my reviewing skills. I also did a stint on the student newspaper at the University of Sydney, wrote a review of the final Harry Potter book for The Age, and blogged for the ABC Radio National Book Show's blog.

All through undergrad, I was determined to become a journalist or newspaper subeditor. All this writing was intended to get me to that point, and I also did a two-week internship at The Canberra Times as a trainee journalist, where I published scintillating stories on crises in rural dentistry, children's soccer tournaments, amateur theatre productions, and so on. And when I graduated from my undergrad degree, I sort of fell into a subediting job at The Canberra Times by accident, mainly because I was panicking about what to do, asked if they needed any subediting help over the summer holidays, and somehow ended up with first a part-time, and then a permanent full-time job.

And I hated it. I have never been as miserable in my life as I was during that one year as a subeditor.
catpuccino and
angel_cc will know what I mean, because they had the misfortune of living with me. Looking back, it was the perfect storm of awful working environment (tense, like all newspapers, because of the decline of print media and the resulting loss of jobs), too many changes to my life, and the escalation of the depression that had plagued me since I became an adult, rather than journalism itself, and if I had been less depressed, or could have stayed in Sydney, or worked for a different employer, things might've turned out very differently. But as it was, I didn't last long as a full-time journalist, and fled to the welcoming arms of academia, emigrating to the UK, and thence to the life I have now as a librarian. Throughout all this I continued to churn out reviews for The Canberra Times, as I had done while an undergrad, and as a subeditor, and during the year I worked four other jobs. I only stopped reviewing for them in 2013, when Fairfax (the company that owns pretty much every paper in Australia not owned by Rupert Murdoch) had mass layoffs, including my wonderful editor. We reviewers were offered the opportunity to continue writing for the paper, but, with a drastically reduced features section, and features editing being run out of Perth by an editor who seemed unequal to the task ahead, I could see the writing on the wall. I have not been paid for my writing since. I still love to write, and I miss the ease and fluency with which I was able to put together a review, particular during the middle years of my time writing for The Canberra Times, when I frequently produced multiple reviews in a week. I was incredibly privileged - I got paid to interview Garth Nix, Jeanette Winterson, John Marsden, Kevin Crossley-Holland, Sophie Masson, Gillian Rubinstein, Shaun Tan, and others. Many of those authors were childhood heroes of mine, the writers of incredibly formative books for me, and meeting them as an equal to talk to them about their writing was an unbelievable experience. Making a career out of writing and reviewing was never on the cards - it always seemed to me a very stressful and precarious way to earn money, and even though my former editor has often told me she thought it a shame that I didn't make a huge effort to pursue a career as a freelance writer, I prefer the security of a full-time job and regular paychecks. I really admire those who do - it's a difficult road to follow.

I hope that answers your question,
promiseoftin!

I still have spots available for more December posts. You can make suggestions for topics here on Dreamwidth or here on Livejournal. Multiple suggestions are very welcome.

This entry was originally posted at http://dolorosa-12.dreamwidth.org/230429.html. Please comment there using OpenID.
Friday, November 25th, 2016
---
7:59 am
- December talking meme
I've never done this before, mainly because I couldn't commit to writing as regularly as this meme requires, but I've decided to give it a go this year. How it works: pick a date from those below, give me a topic, and I'll ramble on about your chosen topic on the date selected. I'm leaving a chunk of days out due to holidays, but any date that appears is free to be selected by you. I'll update the post once people choose days, to indicate that they're no longer available.

So, give me topics!


1 December - What got me into journalism/writing? -
promiseoftin
2 December
3 December
4 December - Doing gymnastics - Kathy (who doesn't have an LJ/Dreamwidth account)
5 December
6 December - Things I wish people in fandom knew -

dhampyresa
7 December
8 December
9 December: My favourite author(s) -

geckoholic
10 December: Fandoms I wish were bigger -

schneefink
11 December
12 December
13 December
14 December - My favourite animal(s) -

umadoshi
15 December
16 December
17 December: Fannish things I read/watch to cheer myself up -

schneefink.
18 December
19 December
20 December
21 December
22 December
30 December
31 December
This entry was originally posted at http://dolorosa-12.dreamwidth.org/230373.html. Please comment there using OpenID.
Sunday, November 13th, 2016
---
2:47 pm
- All systems red
The emotions of Trump's supporters need no economic explanation: hatred is its own ground. It is the oldest and most pitiful liberal self-delusion to imagine that ethnic hatred, or, now, misogyny is merely a masked form of economic distress — the bad way that an authentic emotion expresses itself.
— Adam Gopnik, A Point of View.
Felt a tremor stir beneath my breath
That forecasts storms on the gallup poll
Woke up from the nightmare news
And hoping to read a sign in the morning air

Nothing changes here and nothing improves
All say my friends who just want out
And leave these troubles behind
Scatter like paper in the eye of the storm
Documented with a silent snow
That's only heard from far away

More cards in play, follow in suit
Everywhere you look, you only see red
And wonder when to call off the race
Watching a horse running down its last legs
Just when you think it couldn't get much worse
Watch the numbers rise on the death toll
And the chimes of freedom flash and fade
Only heard from far, far away

I hear you can't trust in your own
Now the grey is broken in the early morn
And the words forming barely have a voice
It's just your heart that's breaking without choice

Everything you've learned is distorted in your head
Bouncing off the walls, unravelling the thread
Staying up with the blue screen glow
Forgetting everything you ever dreamed years ago

When the dread is flowing down my veins
I want to tear it all down and build it up again
Tear it all down, build it up again

Hear your heart that's breaking without choice
I want to hear those chimes ring again
Ring again

— Calexico, 'All Systems Red'.


The latter is my favourite political protest song, written as an anguished cry of despair during the George W. Bush years. How bleak, how horrifying, how much it crushes the soul that it is again applicable today, that it was always applicable, hiding just around the corner.

This entry was originally posted at http://dolorosa-12.dreamwidth.org/230065.html. Please comment there using OpenID.
Sunday, October 23rd, 2016
---
3:51 pm
- The sun goes down, your eyes look out
I'm sitting here drinking a cup of tea and eating salted caramel fudge in the late afternoon sun, and thinking it's been a pretty great weekend.

Yesterday we mostly hung around at home, apart from an hour or so when we went out for one of the talks at Cambridge Festival of Ideas (this is a free programme that runs every year, a series of talks and panels by a mixture of Cambridge academics and other speakers on various topics, aimed at the general public). The panel we went to was about new media, and panelists ranged from fairly senior editors at Buzzfeed and Open Democracy to an academic doing research on the role of the media in Turkey, Morocco and Tunisia, and was excellent, although it didn't really tell me anything I didn't know. We've been trying to take more advantage of events like this — there's always a lot on in Cambridge, frequently free and generally right on our doorstep, so we're trying to make an effort to go to as much as we can.

Today we went to Apple Day at the Botanic Gardens. This happens once a year; you can taste about fifteen varieties of apple (kinds you can't buy in supermarkets), and buy bags of them to take away. There are stalls selling stuff like apple juice, cider, jams and cakes, honey, and (our favourites) cheese and gin. We walked away with three bags of apples, cherry sloe gin, and some cheese. There are also a few food trucks, a stall selling coffee and cake, and activities for children. We went last year and it was overcast and occasionally rainy, but this year the weather held (always a bit of a gamble in the UK in October) and we had a fabulous time in the autumnal sunshine, eating apples, bumping into a couple of friends, and wandering around the gardens. The only drawback was that you had to queue for ages for everything, but we were aware this would happen and thus weren't shocked by the long, slow-moving queues.

Now we're back at home and just lazing around until dinner time.

Over the past few weeks I've oscillated between cheerfulness and moments of crushing despair, and had to do things like avoid reading any news or thinking about the state of the world. At times the darkness, cruelty and sheer violence of the world has been overwhelming, and it seems like many people I care about are going through particularly difficult times. It's left me feeling helpless and despairing, and struggling to know what I can do in the face of it all. But every so often there'll be these moments of kindness and gentleness, existing almost out of time, like a pause in which I can gather my strength. This weekend was one such bright moment. I have to store it up with the others, for later. These brief moments of warmth and light are a small, fragile thing, but I have to believe that they will be enough.

This entry was originally posted at http://dolorosa-12.dreamwidth.org/229728.html. Please comment there using OpenID.
Sunday, October 16th, 2016
---
4:31 pm
- Take my hand and I go under
Last night, Matthias and I braved the Cambridge rains and went out to see Aurora. For those who don't know her music, I can best describe her as another in the long line of fey, ethereal, slightly discordant female Scandinavian electropop singers whose lyrics are vaguely unsettling. Think a calmer Niki & the Dove, a less pointed Karin Dreijer Andersson, or a sweeter Susanne Sundfør. It's very watery music, both in sound and lyrical content.

I'm not the most seasoned concert-goer: I get really tense in large crowds, particularly if they're close enough that I'm going to have lots of strangers touching me, so I have to really want to see the act, so I'm not sure exactly where I'd rank this in terms of Concerts I Have Been To, but it was a very different experience to any other concert I've attended. It was somehow warm and welcoming and meditative, and almost magical, as if she were reaching out and enveloping the audience in a hug, or a blanket. It was interesting to me that so many of the audience — the most passionate of Aurora's fans — were young teenage girls, aged around 13-16 to my eyes. She was so gentle and encouraging to them, and I found that quite precious and moving. It was as if she could relate to them on their level and see the power of the moment — being in the same space as someone they admired and loved — without ever being patronising or minimising the depth of their emotional engagement.

And as for the music? It fed my soul, somehow. The convert came on the heels of a really trying, exhausting, and in many ways upsetting week, and being in that space, in that moment, was exactly what I needed.

My favourite songs from the set (links go to live versions, but not from my concert):

'Black Water Lilies'
'Conqueror' (in this clip, as at our gig, she engaged in what Matthias describes as 'Ronni dancing', which I'll have to admit is true)
'I Went Too Far'
'Through the Eyes of a Child'.

This entry was originally posted at http://dolorosa-12.dreamwidth.org/229468.html. Please comment there using OpenID.
Friday, October 14th, 2016
---
6:08 pm
- A breath, a pause
I have a brief moment of calm between a week that's been very full on, with lots of intensive teaching, and essentially a week with an event happening almost every night. This is mainly because the Cambridge Film Festival, and the Cambridge Festival of Ideas have pretty much overlapped this year. For someone like me, who has very low energy and needs to spend a lot of time doing quiet stuff at home, it's going to be fun but exhausting.

Coming up over the next week or so:


A concert (Aurora) on Saturday 15th


A film (American Honey) on Tuesday 18th


A concert (Birdy) on Wednesday 19th


A talk (
Nalo_Hopkinson) on Thursday 20th


A talk (on new media) on Saturday 22nd


Apple Day (basically show up and eat as many types of apples as you can) on Sunday 23rd


A film (The Handmaiden) on Monday 24th


A film (Toni Erdmann) on Tuesday 25th


A talk (Farah Mendlesohn on children's fantasy novels) on Wednesday 26th


A film (Into the Inferno) on Thursday 27th


I feel exhausted just thinking about it! But everything should be a lot of fun.

I wrote a new post on my Wordpress blog. It's a review of A Torch Against the Night by Sabaa Tahir.

This entry was originally posted at http://dolorosa-12.dreamwidth.org/229276.html. Please comment there using OpenID.
Tuesday, October 11th, 2016
---
5:06 pm
- Guidance on residency documentation for EU/EEA/Swiss residents in the UK part 3
Previously in this series, applying for an EEA (QP) registration certificate.

The usual disclaimer: I am not an immigration lawyer, and I am not an immigration advisor. Do not take this post as the be all and end all on this particular subject. Your first port of call should always be the official guidance on the UKVI website.

Today I'm going to look into applying for EEA (Permanent Residence) documentation, usually known as the EEA (PR) document certifying permanent residence. This document is applicable for the following people:


EU/EEA/Swiss residents of the UK who have held the EEA (QP) card for a minimum of five consecutive years, continued to exercise treaty rights throughout those five (or more) years and have not done anything to break their continuity of residence in the UK (i.e. haven't been away for long periods of time since receiving the QP card).


EU/EEA/Swiss residents of the UK who have lived in the UK for a minimum of five consecutive years and exercised treaty rights for those five consecutive years without any gaps, and who have not left the UK for any extended periods of time during those five years.


Non-EU/EEA/Swiss family members of either of the above who have held an EEA (FM) or EEA (EFM) card for a minimum of five consecutive years and whose EU/EEA/Swiss family member still lives in the UK and exercises treaty rights, or already has their own EEA (PR) document.


I will cover the last category of people in another post, but suffice it to say now that non-EU/EEA/Swiss family members can apply on the same EEA (PR) application form as their EU/EEA/Swiss family member, and I recommend doing so as it will mean both applications are assessed at the same time.



(

Instructions on how to apply behind the cutCollapse

)



In the next post in this series, I will cover the process of making an application as the non-EU/EEA/Swiss family member of an EU/EEA/Swiss person.

Please feel free to comment with any questions, corrections, or requests for clarification. If you want your request kept private, you can send me a private message via Dreamwidth or Livejournal, or comment with your email address and I will email you.

This entry was originally posted at http://dolorosa-12.dreamwidth.org/228999.html. Please comment there using OpenID.
Thursday, October 6th, 2016
---
3:44 pm
- Guidance on residency documentation for EU/EEA/Swiss residents in the UK: part 2
Previously in this series, choosing the right residency documentation, and ways to exercise treaty rights in the UK.

I'll reiterate my disclaimer from the last post: I am not an immigration lawyer, and I am not an immigration advisor. Do not take this post as the be all and end all on this particular subject. Your first port of call should always be the official guidance on the UKVI website.

In today's post, I'm going to focus on applying for a reigstration certificate, otherwise known as the EEA (Qualified Person) (or QP) form.

This form should be used by people from the EU, EEA or Switzerland who are in one of the two situations:


Intending to move to the UK to exercise treaty rights (see previous post for information on the various ways you can exercise treaty rights)


Already in the UK exercising treaty rights, but haven't done so for five or more consecutive years


A successful EEA (QP) grants the applicant a registration certificate, which is a formal recognition of their status as a 'qualified person', i.e. a person from the EU, EEA or Switzerland residing in the UK and exercising treaty rights.



(

Why apply for an EEA (QP)?Collapse

)





(

How to applyCollapse

)



In the next post in this series, I will cover the process of making an application for a document certifying permanent residence (otherwise known as EEA (PR)).

Please feel free to comment with any questions, corrections, or requests for clarification. If you want your request kept private, you can send me a private message via Dreamwidth or Livejournal, or comment with your email address and I will email you.

This entry was originally posted at http://dolorosa-12.dreamwidth.org/228796.html. Please comment there using OpenID.
Monday, October 3rd, 2016
---
4:09 pm
- Guidance on residency documentation for EU/EEA/Swiss residents in the UK: part 1
The latest rumblings from the Tory party conference have prompted me to put this together. This will be the first of a series of posts. Once I've finished them all, I'll add an index to this first post. Please feel free to share as widely as possible, to anyone who thinks it may be useful.

A quick disclaimer, before I get started: I am not an immigration lawyer, and I am not an immigration advisor. Do not take this post as the be all and end all on this particular subject. Your first port of call should always be the official guidance on the UKVI website. However, I have, in the past, found the guidance there to be opaque, unclear, contradictory, or failing to include advice relevant to people in certain situations, so what I'm hoping to do here is to provide clear, concise information relevant to people in a variety of situations.

A bit about me

I am an Australian immigrant living in the UK. I arrived here just over eight years ago, and have held a series of visas over that time period. Last year, I successfully applied for an EEA (Extended Family Member) residence permit as the family member of my German fiance. At the same time, he successfully applied for an EEA Document Certifying Permanent Residence. (Don't worry if you don't know what these types of documents are. You will do by the end of this post!) Due to a law change, I was able to become a British citizen this year, and my partner is on track to become a citizen by naturalisation early next year. I have a great deal of experience with EU-route residence documentation in the UK and the strange quirks and pitfalls involved in making these applications.

Who this guidance is intended for


EU/EEA/Swiss people currently living in the UK, or who intend to move here in the immediate future


EU/EEA/Swiss people who have lived in the UK and exercised treaty rights for at least five years (again, I will explain what 'exercising treaty rights' means below)


Non-EU/EEA/Swiss people who are the family members of an EU/EEA/Swiss person, such as dependent children, spouses, long-term partners, dependent parents, and so on




(

Which document is right for me?Collapse

)





(

What is meant by "exercising treaty rights"?Collapse

)



What to do next


Work out which document is appropriate for you


Figure out which category or categories you fall into in terms of exercising treaty rights. If you are applying for a document certifying permanent residence, it may be that you fall into several categories across the five-year period, so make a timeline of what you were doing (e.g. September 2011-June 2012: student; July 2012-August 2012: jobseeker; August 2012-present: worker).


If you are the non-EU/EEA/Swiss family member, your own activities are irrelevant. Instead, work out which category or categories your EU/EEA/Swiss spouse, partner, or relative falls into. In your application, you will need to provide documentation for their exercise of treaty rights.


In the next post in this series, I cover the process of making an application for a registration certificate.

Please feel free to comment with any questions or requests for clarification. If you want your request kept private, you can send me a private message via Dreamwidth or Livejournal, or comment with your email address and I will email you.

This entry was originally posted at http://dolorosa-12.dreamwidth.org/228424.html. Please comment there using OpenID.
Sunday, October 2nd, 2016
---
10:18 am
- Dear Yuletide writer
Thank you for writing for me!

I'm pretty easygoing about what type of fic you want to write for me. I read fic of any rating, and would be equally happy with plotty genfic or something very shippy. I read gen, femslash, het and slash, although I have a slight preference towards femslash, het, and gen that focuses on female characters. I mainly read fic to find out what happens to characters after the final page has turned or the credits have rolled, so I would particularly love to have futurefic of some kind. Don't feel you have to limit yourself to the characters I specifically mention — I'm happy with others being included if they fit with the story you want to tell.

General likes include feminism (and women's stories more broadly), found families, people with very different perspectives and/or life experiences coming together (either romantically, as friends, or as reluctant allies), human/non-human pairings, relationships with power imbalances, and characters reflecting on power and/or the reasons for their own powerlessness. My other favourite themes are dispossession and exile, and place and the way it shapes people — what do particular characters understand by 'home'? Can they return to it? Is home a place for them, or is it an age, or is it particular other people? Feel free to have a look around at my Ao3 profile as it should give you a good idea of the types of things I like to read.

Major dislikes and squicks: AUs, fusions and crossovers (except in certain circumstances, which I will outline below), excessive descriptions of bodily fluids, Mpreg, incest, or infidelity. I am only interested in shipfic if it focuses on the pairings I specifically mention in my prompts. There are several fandom-specific dislikes, which I will outline in the prompts below.



(

Fandom-specific prompts behind the cutCollapse

)



Don't feel you have to stick rigidly within the bounds of my prompts. As long as your fic is focused on the characters I requested, I will be thrilled to receive anything you write for me, as these really are some of my most beloved fandoms of the heart, and the existence of any fic for them will make me extremely happy.

This entry was originally posted at http://dolorosa-12.dreamwidth.org/228282.html. Please comment there using OpenID.
Sunday, September 18th, 2016
---
4:33 pm
- Bedford, food fairs, and book reviews
The three things in this post's title sit rather incongruously next to each other, but together make up this weekend. I spent most of yesterday in Bedford, where Matthias had to travel to take his 'Life in the UK' test, a prerequisite for a successful application for British citizenship by naturalisation. Matthias will be applying for this in the near future, and this test is simply one of the administrative hoops through which he is required to jump. It involves answering a series of simplistic and somewhat silly questions about British history, culture and politics. Although he had studied, and passed every practice test without difficulty, we were more concerned that his proof of address (a printed bank statement) wasn't going to be accepted by the test administrators, as at least one person we know had been turned away for the rather silly reason of not having his name printed on each page of his bank statement. Thankfully, Matthias was not turned away at the door, and the test was so easy that he completed it in three minutes. He was informed that he had passed then and there, and so his naturalisation application can go ahead. For various bureaucratic reasons he will not be able to apply until early next year, but it's nice to have this out of the way good and early.

After the test, we met up with some friends who live in Bedford for beer (or, in my case, gin) and curry, which struck me as a very British way to celebrate Matthias' impending Britishness.

Today the two of us met up with
naye and
doctorskuld and went to a food fair. There were a lot of free samples, and Matthias and I came away with sausages, various types of cheese, and a small collection of vinegars and sauces. We opted not to eat lunch at the food fair and headed over to a hipsterish cafe with antique bikes hanging from the ceiling, and a menu in which half the items consisted of avocado on toast. I don't like avocado, but luckily the other half of the menu was filled with things I like, so there was no danger of going hungry.

I've just written a review of some of my recent reading. It's a review of books by Shira Glassman, Becky Chambers, and Kate Elliott, and can be found at my Wordpress blog. I highly recommend all three books.

Yuletide is fast approaching. My nominations have all been approved (there was never any danger of that — I'm highly unlikely to nominate borderline fandoms, but it's nice to have the confirmation), so I guess I'd better get on to writing my letter and thinking about what fandoms to offer myself!

I hope everyone else has been having wonderful weekends.

This entry was originally posted at http://dolorosa-12.dreamwidth.org/228021.html. Please comment there using OpenID.
Friday, August 26th, 2016
---
8:07 am
- Imzy, the update
Thanks to some prodding (and an invite code from
st_aurafina) I am now on Imzy as Dolorosa. I'm not sure I'm going to use it as a blogging platform unless I can figure out how to crosspost here, but I've joined a bunch of communities and am going to just lurk a bit until I can figure out how everything works.

So yeah, if you're on Imzy, feel free to follow me (although if your username is very different, could you let me know who you are), and also do rec me some communities.

(Also, if I were to start a comm there for Australian YA — both early stuff from my childhood, and current stuff — would anyone be interested?)

This entry was originally posted at http://dolorosa-12.dreamwidth.org/227620.html. Please comment there using OpenID.
Wednesday, August 24th, 2016
---
7:54 am
- Imzy
I've noticed a lot of people on Dreamwidth have been trying out Imzy as a platform, and have been wondering about trying it out myself. It would be nice to move to the shiny new fannish platform ahead of the charge for once. I'm not sure it's going to take over from Tumblr (although to my mind the day that fandom moves on from Tumblr will be a great day), but I'd like to do what I can to hasten the move to another platform. I guess what I'm saying is, sell Imzy to me, people who are already on there. What do you like about it, and what do you think it does well?

Here's what I like about my current platforms:

Dreamwidth/Livejournal


The strong sense of community


The comment culture (i.e. that comments and discussion are welcome and encouraged)


The ability to form communities devoted to particular interests


The tradition of friending memes (and therefore the ability to keep on meeting new people)


Filtered posting; the ability to lock posts


Tumblr


The ease of posting/sharing images


The ability to lurk when you're not feeling up to a long, involved discussion


What I don't like about Tumblr (the lack of nuance in the conversations that arise there, the impossibility of actually finding community solely through its cumbersome tagging system, the almost active discouragement of communication and discussion, endless scrolling) is probably something I'm never going to completely escape online — if fandom is moving to places like that, clearly a large portion of fandom actually wants that kind of platform — but I'm hoping that Imzy might at least offer something of an alternative.

So, those of you who are early adopters, how are you finding Imzy?

This entry was originally posted at http://dolorosa-12.dreamwidth.org/227581.html. Please comment there using OpenID.
Sunday, August 14th, 2016
---
1:41 pm
- Reading challenges
This year, I set myself a reading challenge on Goodreads. It was the same as last year's: fifty books, which to me seemed a modest goal. Last year I was reading right up until 31st December (if I say I'm going to do something, I do it, even if it's massively inconvenient), and looking back, I read quite a few things out of a sense of duty, rather than a genuine desire to read them. I was anxious about the breadth of my reading, and basically didn't let myself give up on any books.

This year, it's mid-August and I've already finished the fifty books in the challenge. And the whole process has been a joy.

The difference is that I gave myself permission to just read what I wanted and not worry about the composition of my reading list. And while I've still read a couple of duds, as well as a bunch of books that were merely solid, rather than life-changing, I've enjoyed reading and been enthusiastic about it in a way that I hadn't been for ages. Sure, I did read some stuff I really enjoyed last year (Silver on the Road, Sorcerer to the Crown, and Black Wolves spring immediately to mind), but I often felt reluctant or unenthusiastic about the books I'd chosen, and frequently went for entire weeks without reading a single book.

The year is barely halfway over, and I've finished my reading challenge, but looking forward to the next five months — and the books they'll contain — with great anticipation. It strikes me as incredibly messed up that I was feeling actual anxiety about reading — an activity which had up until that point been one of my favourites — and I'm glad I've been able to restore the sense of joy and happiness which had been missing. After all, what is the point of reading for pleasure if you get no pleasure out of it?

(Speaking of Goodreads, I'm Dolorosa over there if you want to add me. I only use it to log the books I've read, but it's always nice to see what others are reading, so do feel free to add me if you want. If your username is really different to your Dreamwidth/LJ one, could you let me know who you are, though, so that I don't get confused.)

This entry was originally posted at http://dolorosa-12.dreamwidth.org/227198.html. Please comment there using OpenID.
Friday, August 12th, 2016
---
2:52 pm
- Gymnastics master post
I am a former gymnast, so I've been watching the current women's gymnastics events in Rio with excitement and interest. Simone Biles, the US gymnast who has so far helped her team to win the gold team medal and last night won the individual all-around competition, is simply incredible to watch, and just because she's streets ahead of all her competitors it doesn't mean I don't enjoy watching them too! I've been gathering a bunch of links over the lead-up to the Olympics, as well as over the course of the competitions (about half of which were sent to me by my mum), and rather than simply throwing them out into the void on Twitter, I thought it might be best to keep them all in one place. This is more for my reference than anything else, although if anyone here shares my love of gymnastics, feel free to jump into the comments, especially if you have links I haven't included.

Why No One Can Understand What Gymnastics Scores Mean. Includes lots of clips of routines old and new, including Nadia Comaneci's iconic perfect 10 bar routine. This makes a nice pair with the following link.

A Comprehensive Video on Everything You Need to Know about Gymnastics Scoring.

How the U.S. Crushed the Competition in the Women's Gymnastics Team Final (spoiler: their difficulty scores are higher than everyone else's, and they normally score high on execution too). Frame-by-frame analysis of team members on different apparatus.

Frame by Frame, the Moves that Made Simone Biles Unbeatable. She's just amazing.

America's Painful Journey from Prejudice to Greatness in Women's Gymnastics. Three of the five-woman US team are women of colour, but their incredible success has been hard won in a sport that has traditionally been unwelcoming, especially to black women.

The New Yorker has had some of the best gymnastics coverage. Here are several articles from that magazine:

Women's Gymnastics Deserves Better TV Coverage. This is about the US coverage, which I obviously haven't watched, but the BBC coverage here isn't much better. It's got inane commentary, and tends to cut to irrelevant stuff like footage of gymnasts putting on hand-grips between apparatus, or struggling not to cry after getting bad scores, instead of actual routines. (For example, I still haven't seen Eythora Thorsdottir's incredible, melodramatic floor routine in a single BBC stream.)

The Mind-Blowing Athleticism of Simone Biles.

A final New Yorker link, a Simone Biles profile.

Gymnastics Hair: A Retrospective got a laugh out of me. I remember wearing at least three of these styles during my own years as a gymnast. My favourite was the era of french braids and helmets of glitter hairspray. Good times.

I follow a lot of gymnastics Tumblrs, and highly recommend the following:


gymternet
thegymnasticsnerd
marksmcmorris

I will add to this as I discover more links.

This entry was originally posted at http://dolorosa-12.dreamwidth.org/226911.html. Please comment there using OpenID.
Wednesday, August 10th, 2016
---
4:09 pm
- Short Reading Wednesday
I only read one book in the past week, An Accident of Stars, by Foz Meadows. It's a YA portal fantasy in which Australian teenager Saffron Coulter finds herself transported to another world, and becomes caught up in its complex, dangerous political machinations. Her otherworldly adventures are no fun romp, but rather come at a heavy cost, both physically and emotionally. Meadows does a good job of showing why existence in an other world would be appealing to someone like Saffron, while also challenging some of the underlying assumptions of portal fantasies (namely, that characters are able to travel back and forth between worlds without cost, worry, or any real impact on their lives back on Earth). Saffron was a refreshingly thoughtful character (in that she spent a lot of time seriously thinking about the underlying default assumptions that drove her reactions to things), although teenage!me would have found her impossible to relate to for various reasons (in fact, although I enjoyed the book as an adult, I realised that as a teenager I would have really disliked it), and she, along with most of the other characters in the book, were some form of LGBT+, living in a world where that was the norm, which was also nice to read about.

It feels really nitpicky to go into my main issue with the book, which is its need for a serious edit. But it was riddled with typographical and layout errors (missing line breaks, no spaces between transitions from one character's point of view to another, missing quotation marks, and quotation marks or full stops with no spaces between them and the following characters). I've spotted the odd typographical error in quite a few professionally published books, but I've never before read a professionally published book with the sheer number of obvious errors - such that I wonder if An Accident of Stars was even copyedited at all! A second, and subtler problem (but for me just as distracting) was the incongruity between the story's unapologetically Australian setting, and the Americanisms in the dialogue (or Saffron's interior monologue) that wouldn't be used by anyone in Australia. I'm not talking about US spelling conventions - a book published in the US is always going to have those - it's more things like 'a half-dozen' (instead of 'half a dozen', which is how we would say it in Australia) or 'an alum [of such-and-such a school]' (a phrase I've never heard used in Australia - we would probably say 'a graduate of...' or 'one of the alumni of...'). I'm a former subeditor, so this kind of stuff really sticks out to me, and after a while it becomes all I notice, so it may not be such an issue for other people. I do hope the publisher sorts out the typographical issues in future editions, although I think it would be overly optimistic to expect them to make the language more Australian.

I also read 'Your Orisons May Be Recorded', a short story by Laurie Penny which imagines angels and demons working in a vast, celestial call centre, and is the story about angels, demons, and their interactions with (and feelings about) humans that I've always been searching for. It's free on Tor.com, and is utterly brilliant.

This entry was originally posted at http://dolorosa-12.dreamwidth.org/226634.html. Please comment there using OpenID.
Wednesday, August 3rd, 2016
---
1:12 pm
- Reading Wednesday, in brief
I've been reading a lot of great stuff, so I thought I'd put together a brief post. I'm trying to get over a recent block in terms of writing on Dreamwidth/LJ, where I feel that posts here have to be substantial and significant, and if they don't meet this arbitrary bar I should just throw a few words together on Tumblr. I need to stop worrying about whether my thought fragments are important enough to go on Dreamwidth/LJ and just post them!

I read An Alphabet of Embers, an anthology of short fiction edited by Rose Lemberg. The highlights for me were Kari Sperring's story 'Some Silver Wheel', and 'Everything Under One Roof', Zen Cho's contribution. However, the whole collection was wonderful, and I strongly encourage you to read this review in Strange Horizons, which gives a good overview of every work in the anthology. I would echo the reviewer, Karen Burnham's, sentiments:


I have also never seen an anthology so beautifully orchestrated, with tones and themes following each other beautifully like the movements of a symphony, encompassing a huge range of human (and non-human) experience and feeling while always maintaining a coherent sense of the whole. As such, while the individual stories sometimes seem too much like embers (flashing brightly but fading from memory quickly), the anthology as a whole leaves a lasting impression of weight, survival, and beauty.


On the advice of
losseniaiel, I've started reading the Vorkosigan saga. I'm reading it somewhat out of publication order, starting instead with Shards of Honour and Barrayar, which I understand is roughly at the start of the series' chronology. While they're a little bit dated in some ways, I absolutely adore Cordelia as a character, and love stories about culture clashes, characters from very different backgrounds being forced to work together, and pragmatic women who exercise power in subtle, indirect ways, so as you can imagine, I'm having a great time with these books. I'm a bit limited in what I read next in the series as I'm not prepared to buy them and my local library doesn't own any copies of Bujold's books, so I'm reliant on whatever
losseniaiel can lend me. I do look forward to reading more in this series when I can, though.

On Monday night I read Carry On by Rainbow Rowell, which I also thoroughly enjoyed, apart from one rather distracting problem. The book is a spin off of sorts from her earlier book Fangirl, in which the main character wrote fanfic of a Harry Potter-esque British children's series - Carry On is Rowell's attempt at that fanfic. As published original fiction attempting to evoke the conventions of fanfic, Carry On is excellent, and those who read a reasonable amount of fanfic (like me) will find a lot of recognisable and enjoyable fanfic tropes. Rowell's affection for the medium shines through, and I appreciated that aspect of the book a lot. However, it suffered from a common problem: Americans trying to write work set in Britain, and getting the dialogue hopelessly wrong. A lot of the supposed Britishisms were just off (I'm not even British and I noticed it), and there were scatterings of American slang and phrases that really stuck out to me. I was able to get over this by pretending the whole book was a piece of fanfic for a British canon, written by an American teenager - which indeed may have been the effect Rowell was aiming for - but it was really distracting.

I haven't decided what novel I'm going to read next, but I did enjoy 'An Ocean the Colour of Bruises', a new short story by Isabel Yap at Uncanny Magazine.

What have you all been reading?

This entry was originally posted at http://dolorosa-12.dreamwidth.org/226403.html. Please comment there using OpenID.
Thursday, June 30th, 2016
---
8:54 pm
- Srafcons and fic recs
I've been cycling through despair, fury and anxiety since the EU referendum results last week, but let's put that aside to talk about happier things.

I was lucky enough to spend the weekend at a srafcon in London with
bethankyou, M and S. We spent most of the time wandering around, hanging out in cafes and pubs, and browsing through the books at Forbidden Planet, but our visit also coincided with London Pride, and we managed to catch a bit of the parade.

I've also just finished up a couple of fic exchanges, My Old Fandom and Night on Fic Mountain, both of which were tremendous fun. Now that reveals have happened for both of them, I can share the fic I wrote and received as gifts.

For My Old Fandom, I wrote 'The Many's Gathered Choices', The Dark Is Rising gen featuring Simon Drew, Jane Drew, Barney Drew, Will Stanton and Bran Davies.

For Night on Fic Mountain I wrote 'In the Wings', a Ballet Shoes-Code Name Verity crossover, featuring Petrova Fossil, Julie Beaufort-Stuart and Maddie Brodatt.

By a strange quirk of fate,
Morbane wrote both my gifts for the two exchanges.

I received 'rebound' (Sunshine; Sunshine/Constantine) for My Old Fandom, and 'Find Someone Who's Turning' (Galax Arena; Presh/Allyman) for Night on Fic Mountain.

I enjoyed both fics immensely, and had a great time participating in both exchanges, even if my assignments took me somewhat out of my comfort zone. There were lots of other great works that I found through the two exchanges, and I strongly encourage everyone to have a look through both collections and see if they find anything they like.

This entry was originally posted at http://dolorosa-12.dreamwidth.org/226069.html. Please comment there using OpenID.
Sunday, June 26th, 2016
---
7:53 pm
- And we were left with empty plains and silence
Earlier this year, due to a law change, I was able to apply for British citizenship by descent through my father — something that had previously been impossible for me due to various quirks of British citizenship law. I put in my application, which was approved in May, and had my citizenship ceremony shortly thereafter. This was the last in a run of extraordinary good fortune for me and Matthias. He had received permanent residency in the UK (the optional equivalent of Indefinite Leave to Remain for EU residents in the UK, and a prerequisite for applications for British citizenship by naturalisation). We had got engaged and set a wedding date. He had successfully applied for a new job, which represented a significant promotion. My job had been made permanent. In other words, we had been putting down deep roots, taking steps towards the future we were choosing to build in the UK.

On Thursday, that future became a lot more shaky and uncertain.



By a bitter twist of fate, my new British passport, which represented the final stage in my immigration journey, something that I had been looking forward to so much, arrived at my house in the early hours of Friday morning, at almost precisely the moment Nigel Farage was crowing on TV about 'independence day' and his 'revolution achieved without a shot being fired'. A moment that I had been dreaming of for years had become a sick joke.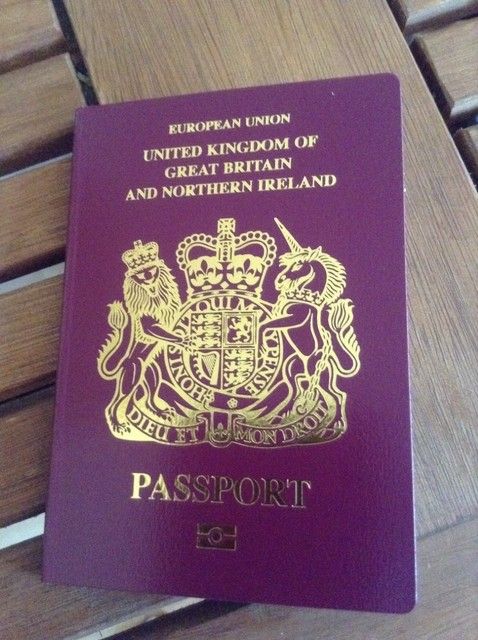 I keep looking at that top line on the passport and feeling bitter, bitter sadness.

It's not just about me. Over the past few days, I've been hearing story after story from EU migrant friends, as well as non-EU migrants, and non-white British friends of acts of appalling racism and xenophobia, of feeling unwelcome in their own homes, of the feeling of suddenly facing uncertain futures. I've heard from countless people about various ways this referendum result is likely to affect their current or future employment, their visa status, their ability to sponsor non-EU spouses and other relatives for visas, as well as from British people furious and terrified that they have been stripped of their ability to live, love, work and study in 27 other countries. The loss of free movement is a particularly bitter pill to swallow for me, as someone who has lived visa to visa, keeping track of the implications of small changes to immigration law. A whole world — cosmopolitan, international, collaborative and outward-looking — has been rejected.

I'm particularly furious on behalf of the Scottish and Northern Irish citizens/residents of the UK, and those of Gibraltar, who are being dragged into this by Little Englanders (and the Welsh) without their consent, as well as residents of London, and the bigger cities and university towns of England and Wales, all of whom voted overwhelmingly to remain. My own second home of Cambridge voted to remain by 73 per cent, so at least I don't have to look around and wonder which of my fellow residents are frightened racists. I'm proud of my city. I'm also enraged on behalf of the millions of EU residents of the UK who were denied the ability to vote on their future and forced to watch helplessly as others decided it for them. (A post of Matthias' to this effect caused an ignorant Tory friend of his to question why he hadn't become a citizen if it mattered so much to him, which I must admit gave me a white hot fury. The reason why he hadn't become a citizen was that it would have invalidated my previous visa. He was on track to become a citizen in January next year, but that's now up in the air, as Germany only allows dual citizenship with other EU nationalities.)

I have particular contempt for David Cameron, selfishly bargaining the futures of millions of younger Britons, UK citizens' lives in the wider EU, and all immigrants here in the UK for a shot at stabilising his ailing leadership. Close behind come the Tory Leavers, opportunists stirring the pot for their own personal gain, as well as the Farages and Rupert Murdochs of this world. The Leave voters who didn't actually want to leave, but just wanted to register a protest are utterly beneath contempt. Don't make protest votes unless you actually want to live with the consequences. Otherwise register your disenchantment with spoiled ballots, or by staying home. The rest of us have to deal with your mess.

There was a lot of talk of reaching out and finding common ground, but to hell with that. I, and most people I know, are not taking this lying down. I will be writing to my MP and MEP, urging them to fight against the decision, given that it is an advisory, rather than binding referendum. I strongly encourage you to do the same. You can find your MP here and your MEP here. I would also encourage EU residents in the UK to write to the MEPs of their home countries. A friend of mine has written a good letter and is happy for it to be used as a template, so please get in touch if that's something you would like, and I can pass his template on to you.

If you're based in Cambridge, there is a rally on Tuesday, starting at 5pm at the Guildhall. Details are on this Facebook event, which also includes links to equivalent rallies in Bristol, London, Exeter, Liverpool and so on (although be aware that you'll have to wade through a lot of awful comments from gloating Leavers). I'm almost certainly going to be attending, although I will be late coming in from work, and I encourage anyone who feels up to it to do the same (or at equivalent rallies in their own cities).

There are also various petitions floating around, which I encourage people to sign and share. Most importantly: demand for a second referendum, and guarantee the status of EU citizens currently resident in the UK. If you have any other relevant petitions, feel free to share them in the comments.

I also want to say that I have extensive experience dealing with UKVI, deciphering their incomprehensible forms, gathering the extensive documents required for visa applications, and understanding the byzantine requirements for various visas, including the EEA (Permanent Residence) cards that are a prerequisite for British citizenship. If you or any EU resident friends and relatives want help making such an application (although I can understand if you don't feel welcome and want to get out as soon as possible), get in touch and I will help in any way I can. Please stay and help me vote this pack of fascists out!

Most importantly, if you see any acts of racist abuse, please do what you can (and what you feel safe doing) to challenge them and protect their targets. This result has emboldened a lot of racist xenophobes, who suddenly feel they have a mandate to unleash their vicious, vicious hatred. We need to speak out against this behaviour when we see it, and not yield the public square to them. I'm not naive enough to think that Britain was entirely free of racism, but I have never seen it so blatant, and so publicly acceptable. I am not exaggerating when I say that I feel like I woke up in 1933.

But I still love this, my second home, my international city, my found family of friends from all around the world. I love my job, my university students and researchers, my NHS nurses, doctors, and other healthcare workers, who enrich my life every time I teach them.

As I said on Twitter on Friday, I will remain here until the lights go out.

This entry was originally posted at http://dolorosa-12.dreamwidth.org/225980.html. Please comment there using OpenID.

current mood:
numb
Tuesday, June 21st, 2016
---
4:13 pm
- Some good (work-related) news that I've been sitting on for a while
I'm a cautious person, so I like to wait for contracts to be signed and things to be in writing before telling the world, but now that that's all happened, I can talk about two pieces of very good news. Both are employment-related.

Firstly, Matthias recently applied and was successful in applying for a new job. His old job was an entry level library assistant job in one of Cambridge's departmental libraries, and although he liked it and got on well with his coworkers, it was more junior than he really wanted, and it was also only full-time on a temporary basis: he'd originally been hired to work two days a week, and three extra days had been added on to do a specific project, which was due to end in October. We had been quite anxious about what would happen then, and he had been applying for new jobs since January this year, and had been shortlisted and interviewed for several, but not made it past the interview stage. So it was a great relief when he was successful in this particular job - a more senior role in a different branch of the university's network of libraries, doing varied work in a field in which he has a great interest. Most importantly, the new job is three grades higher than his old one, and the resulting pay increase has come at a very good time, given that we're trying to save for a wedding. He's just started this week, and has found things to be good so far.

Secondly, my job, which was originally a two-year fixed-term contract (due to finish in December, 2016) has been made permanent, which was a great relief. I really enjoy it, like my colleagues, and appreciate how supportive my boss is in terms of letting me do lots of training, attend workshops and conferences, and generally develop my skills for career-related reasons. I was not relishing the prospect of jumping back on the job applications merry-go-round, so I'm thrilled to be able to stay on as long as I want in my current role.

As you can imagine, we are both over the moon, and realise how fortunate we've been. I hope those of you going through stressful job hunts have similar luck.

This entry was originally posted at http://dolorosa-12.dreamwidth.org/225665.html. Please comment there using OpenID.