Thursday, October 19th, 2017
---
7:34 am
- Tell them stories, twenty years on
I wrote this two days ago on my Wordpress reviewing blog, but I thought it was worth reposting here on Dreamwidth as well.

Twenty years ago (or nineteen years, nine months, and about twenty days ago, if you want to get really technical), I was a restless thirteen-year-old, stuck inside during a rainy week on holiday down the south coast of New South Wales. It was the week between Christmas and New Year's Eve, which meant that I was carting around a massive haul of books, given to me for both my birthday and Christmas. I had read all my new books -- all except one, whose cover put me off. My younger sister, fed up with me moping around the house complaining of 'nothing to read,' made the very sensible point that I hadn't read that book. 'I don't like books about animals,' I objected. She insisted. I am forever grateful that she did. Feeling resentful, I sat down to read Northern Lights (or, as my edition was called, The Golden Compass), the first in Philip Pullman's sweeping, expansive children's trilogy, His Dark Materials. I was hooked from the first page, inhaled the book in one sitting, and, once I'd finished it, opened it up at the beginning and reread it without pause. I reread the book four times over the course of that one-week holiday.

It's hard to describe what it felt like, to read that story as a thirteen-year-old. I was already a voracious reader, and I had already encountered many beloved stories, books I would reread incessantly, or borrow repeatedly from the local library. There were already books I felt fannish about, and whose characters I identified with and drew courage from. But this was different. It was like being seen for the first time. It was as if ideas, beliefs and fears I had long felt but was not yet able to articulate had been given voice and shape on the page. As a teenager, my many rereads of Northern Lights (and, after impatient waits of one year and three years, respectively, for its follow-ups The Subtle Knife and The Amber Spyglass) helped guide both my reading tastes, and my burgeoning sense of political awareness. My love of the series got me a paid newspaper reviewing gig at the age of sixteen, and I continued to freelance as a reviewer for various Australian broadsheets for ten years after that.

Ten years ago (or, if you want to get technical, ten years, nine months, and a couple of days ago), I was in a bad place. I had returned to my hometown after graduating university, and although I had a good job and a lot of family support, I was desperately unhappy, and felt isolated and directionless. All my friends seemed to have adjusted to adult life in a way that I was incapable of, and I felt left behind. In a fit of desperation I — who mistrusted the internet and who barely went online except to check email — typed 'His Dark Materials fansite' into Google. I found something that saved me. 2007 was not a good year, but it was made infinitely more bearable by the incredible collection of people — most of whom lived on the other side of the world — who hung out in the forums of that site. Most of them had been there for years, and were all talked out about His Dark Materials, so instead they analysed other books, shared music tips, or just vented about their daily lives. Although by their standards I was a latecomer, they welcomed me with open arms. For a long time, the only thing that got me through the day was the prospect of hanging out in the IRC chat room they'd set up — the international composition of this group of fans (plus the fact that most of them were students or otherwise kept odd hours) meant that someone was always around at all hours. This was my first foray into online fandom, and I made friends for life. Meeting the sraffies — as we called ourselves — was like coming home. Being with them was, like reading the books that had brought us all together, like being seen for the first time. I was able to relax and be myself and feel safe in a way that I hadn't really anywhere since becoming an adult. Ten years have passed since then, and the group of us have gone through so many things together. We've graduated from university, changed jobs and careers, had books and academic articles published, moved cities, emigrated, fallen in and out of love (in some cases, with each other), mourned deaths, and supported each other through whatever life threw at us. We travel specifically to meet up with each other, and if work, study, or holidays bring us by chance to each others' cities, we make a point to hang out. One of the friends I met through His Dark Materials was even a bridesmaid at my wedding.

I recently did a reread of the trilogy, wanting to refresh my memory before reading Pullman's much anticipated foray back into the world of His Dark Materials. I was anxious that it wouldn't affect me as it had when I was younger, that I would pick up on flaws, that its emotional notes would leave me unmoved. I shouldn't have worried. Reading Pullman's words again, returning to that world, was like falling into water. Like the best and most meaningful of stories, it gave me something different, as it had done with each reread, and reading it as a thirty-two-year-old woman was different to reading it as a thirteen-year-old girl, or when I was in my twenties. But, like Lyra relearning to read the alethiometer as an adult after losing the unconscious ease with which she read it as a child, it was a deeper, richer experience — not better, not worse, just different. In the years since I first opened Northern Lights and read those resonant first words, Lyra and her dæmon, I've finished high school. I've graduated three times from two different universities, with an Honours degree, MPhil, and doctorate. I've changed careers three times. I've emigrated, lived in two new countries, acquired a new citizenship, learnt two new languages (as well as many dead languages), presented at conferences, been published academically in two very different fields, fallen in love, had my heart broken, and fallen in love again. In those years, I found my home, and I found myself again. In other words, I've done exactly what His Dark Materials urges: live, as much as I can, feel, as much as I can bear, and learn, as much as I am able. On Thursday, I will collect my preordered copy of La Belle Sauvage, the first of Pullman's prequel trilogy that will return readers to the world of His Dark Materials. I will sit down and read it in a desperate, yearning rush. I wonder what the twenty years that follow will bring. I know that having read this new book — and those that follow — will help me cope with whatever those next years throw at me.

This entry was originally posted at https://dolorosa-12.dreamwidth.org/391610.html. Please comment there using OpenID.
Saturday, August 19th, 2017
---
1:20 pm
- Take my hand and I go under, part 2
This time two weeks ago I was drinking champagne with my mother, sister,
thelxiepia, and two family friends, worrying about the torrential rain that had suddenly tumbled out of the sky, and getting ready to head off to get married. In the end, my fears about the rain were unfounded: the storm stopped about half an hour before the wedding ceremony, and the skies cleared, meaning sunshine and warmth for photographs, and for our guests to enjoy sparkling wine in the gardens of our reception venue.

The wedding ceremony itself was wonderful. Many of my married friends told me they barely remembered anything from the day itself, and that everything passed by in a sort of blissed out blur. For my part, I can remember everything. We got married in Shire Hall (the registry office in Cambridge), in a room that unfortunately only seated fifty people (included me, Matthias, our photographer, and the celebrant), so many of our guests were only able to be invited to the reception. However, I was happy with the mix of people who were able to attend the ceremony: a nice mix of bridal party, family, and close friends from Cambridge.

Matthias and I entered the ceremony to the beautiful sounds of 'Black Water Lilies' by Aurora. We didn't write our own vows, and the celebrant mangled Matthias' middle name (pronouncing it in the English, rather than German way), but none of that mattered. We had two readings. The first, by Matthias' sister, was in German:


Da ist jemand,
der mich nimmt,
wie ich genommen
werden will;
der mich aufbaut
wenn mich etwas
niederdrückt;
der mich zu Herzen nimmt,
wenn mir etwas
über die Leber gelaufen ist;
der mir Gehör schenkt,
wenn mir das Leben
Rätsel aufgibt;
der für mich ist,
wenn sich alles gegen mich
verschworen hat.

Da ist jemand,
mit dem ich zusammen wachsen,
vielleicht sogar
zusammenwachsen darf.

Translation:

There is somebody
Who accepts me as I want to be accepted
Who lifts me up when something weighs me down
Who embraces me when something is bugging me
Who listens to me when life is posing me riddles
Who supports me when everything is conspiring against me

There is somebody with whom I may grow together
Maybe even grow entwined


(The play on words in the last stanza doesn't translate well, but basically involves two very similar sounding verbs, zusammen wachsen and zusammenwachsen, which I guess in English would translate as the two different meanings of 'grow together'.)


thelxiepia read the second reading, an excerpt from one of my favourite poems, 'Homing Pigeons' by Mahmoud Darwish:


Where do you take me, my love, away from my parents
from my trees, from my little bed, and from my boredom,
from my mirrors, from my moon, from the closet of my life, from
where I stop for the night ... from my shyness?


Our friend Levi (for whom Matthias was best man four years ago) and my sister Miriam were our witnesses. While the marriage certificates were being signed, we played two pieces of music: 'All is Full of Love' by Björk, and 'Tonight We Burn Like Stars That Never Die' by Hammock. Here is a photo of us signing the certificates -- I think that gives a fairly accurate impression of our facial expressions for most of the day! After the ceremony, people left the room to the sounds of 'We Own the Sky' by M83. We then went off with our parents, my stepmother, our sisters, Matthias' brother-in-law and nephew, and Levi and
thelxiepia for photos in the gardens of our reception venue. Following this, the reception began, with drinks in the gardens, and then a four-course meal.

Everyone was really impressed by the food, which made me really happy, since we had put a lot of thought into the menu and food is generally the thing I most remember about events such as weddings. I was particularly glad that the vegans and vegetarians attending had made a point of thanking us for their meals, and that it hadn't simply been a meal with the meat removed but no substitutes provided. The cake was a three-tiered citrus cake: the bottom cake was orange, the middle lemon, and the top lime.

After speeches by Levi, my family friend and former editor Gia, and Matthias and me, we inflicted our absolutely glorious eurodance/'90s music playlist on everyone. It wasn't the danciest of weddings I've ever been to, but I had fun dancing, and so did those who joined in. I think there's some video footage of me,
thelxiepia and the other sraffies dancing to 'Saturday Night' by Whigfield floating around, but I'm not going to try to track it down! I'll leave that glory to your imaginations.

The entire wedding and reception were wonderful, and I wouldn't change a single thing. I was worried about so many things, and not one of them happened. I feared I wouldn't remember the day, or that I would spend the entire time fretting about other people, or that I wouldn't get a chance to eat, to dance, to talk to the people I wanted to talk to, and none of that eventuated. Instead, the whole thing was just a lovely party, with the person I've chosen to spend the rest of my life, and all the people we love around us. There were people there I've known since birth, since preschool, one secondary school friend (*waves at
catpuccino*), friends from my postgrad years at Cambridge, sraffies (Philip Pullman fandom friends), and people I had just met that day. It really meant a lot to have my sister there (and indeed to have three 'sisters' as bridesmaids: my sister by blood, my sister by marriage, and my sister by choice), as well as those relatives who made the trek from Australia, although I was sad that not many of them were able to do so.

About marriage itself I feel complicated feelings. I'm an atheist, so I was always going to have a secular wedding, and don't view the ceremony itself as being sacramental. My own parents never married (nor is my father married to my stepmother), and I don't believe that marriage is necessary to be a good partner or a good parent. But I have always had a deep love of rituals and ceremonies marking important moments in peole's lives, and unlike my own parents, I always knew I wanted to get married if circumstances allowed, and that I wanted to have some kind of party to celebrate my wedding. Being married didn't make me feel differently about Matthias, or that our relationship had changed in any perceptible way (although, being a migrant, I am painfully aware of all the ways being married privileges a person in terms of immigration, visas, and passing on citizenship to one's children). Rather, I felt in the ceremony that we were publicly declaring something we have long felt. It feels odd to talk about 'my husband', or describe myself as someone's wife, but I imagine this will change over time.

The world is dark and frightening, and Matthias and I have gone through a lot to be able to live together as migrants in a country that is becoming increasingly xenophobic, but our life together is a light that gives me courage to keep working and trying and learning and growing. I wish that same light -- wherever you find it -- for all of you.

This entry was originally posted at http://dolorosa-12.dreamwidth.org/390059.html. Please comment there using OpenID.
Wednesday, June 7th, 2017
---
4:48 pm
- A message, on the eve of the UK general election
So, here we are. It's been a pretty awful few years of British politics, and this election -- the reasons behind it, the campaign, and the past twelve months in general have been ghastly. I'm not very happy to be going to the polls tomorrow, and although I'm happy with the person I'm voting for, I'm furious with his party for a variety of reasons, and feel pretty dismal about the outcome of the election.

And yet, I'll be there at the polling station to cast my vote at 7am.

I can vote in three countries, and have been doing so in all three, in every election (local, state, national, and referendum) since I've been eligible. In most, I've been voting against the tide; usually my chosen candidate got in, but frequently their party did not win office. It's not been a good decade for politics in my countries. And still, I vote. In one of my countries it's against the law not to, but even without this incentive I would still vote, as I do in the other two countries in which I vote. Over the years I've come to see my vote less as a marker of tribal affiliation and moral purity, and more as a shield, the last line of defense I have available to protect those more vulnerable than me, including those who live in my countries but cannot vote. I would urge all my fellow UK voters who feel ambivalent about the choices put before them on the ballot paper tomorrow to try to view their vote in the same way.

I want to turn from fellow voters for a moment to address a group with whom I feel a great deal of empathy, and whose plight weighs on my mind: the vast majority of migrants in the UK who live here, but cannot vote. Although I am a British citizen now, before I became I citizen I was a migrant who could vote, as Commonwealth and Irish residents of the UK are allowed to vote in all elections here. However, my partner is an EU migrant, as are a great many of my friends, and still more are non-EU and non-Commonwealth migrants, and it has been awful for them to sit out election after election in which decisions are made that have monumental and terrible effects on their lives. My fellow migrants, I am so sorry. I am so sorry we have had to endure yet another election campaign in which we are painted as thieves and parasites whose motives for wanting to be in this country are suspect and illegitimate. I am sorry that the Tories have been campaigning on a platform of anti-migrant hysteria, and that the result tomorrow may have an impact on people's migration status. I am sorry that EU migrants have now lived for close to a year with no clear certainty about their ongoing right to live, work and study in this country. I am sorry that non-EU migrants are facing the prospect of even more restrictive, expensive and cruel immigration rules that will separate families, possibly permanently. I'm sorry that while Labour has been bold in offering a genuinely social democratic alternative to the Tories' vile austerity, this welcoming welfare state doesn't appear to have any room for migrants, unless you read between the lines, where Labour pledges to leave the single market, and thus free movement. I'm sorry that whenever we raise these concerns, talk about how unwelcome and afraid we're being made to feel, we're met with either open hostility from the Right, and accusations of being divisive from the Left (minor parties notwithstanding). I'm furious that the future of the NHS can be a major part of this election campaign with barely any mention of the fact that a drastic limiting of immigration will cause the NHS to cease to function.

I want to say to my fellow migrants that you are wanted. You are loved. I am voting for you. I beg any reluctant voters who cannot muster up the enthusiasm to vote for themselves to do the same. Vote for those who live and love and give and contribute so much here, but cannot vote themselves. Convince others to do the same. Please. Vote.

This entry was originally posted at http://dolorosa-12.dreamwidth.org/388708.html. Please comment there using OpenID.
Friday, April 7th, 2017
---
1:33 pm
- The end of an era
I first joined Livejournal back in 2003, at the urging of high school friends such as
anya_1984,
catpuccino and
miss_foxy. We'd all finished secondary school, and were scattering to various places for university -- the idea was to use LJ as a way to stay in touch. I barely used it at all during those early years, and didn't really get a feel for blogging as a medium (or LJ as a platform) until 2007, when I got heavily involved in online fandom. My fannish activity at this point was mostly confined to the two book fansites where I hung out, but most of the people on those forums also had LJ accounts, so I ended up adding them there, where we had more personal and less fannish subject-specific conversations than those taking place on the forums. However, while I was active on LJ during its heyday, I never really felt a part of things there: most of the people I talked to on LJ were people I knew first elsewhere, and apart from the odd person I met through the two of us being the only people to list very obscure interests, LJ-based fandom seemed to pass me by. To the extent that I was aware of it, it always seemed to be a conversation that was happening elsewhere, with rules and conventions that were opaque to me. By the time I was interested in becoming more involved in this fannish community, the majority of it decamped to Tumblr. What I'm trying to say is that LJ never felt like an online home to me. Home for me was the two forums and their associated chatrooms, and, later, Dreamwidth and Twitter. Those spaces were where I met the most people, where I thought and conversed and wrote and dreamed. For years I'd been mentally thinking of LJ as a backup (as well as a place I entered occasionally to talk to a few stubborn holdouts).

What I'm trying to say is that I don't feel the same sense of anguished loss and ending that so many of my friends are talking about. I understand their grief -- I would feel it, were any of the online 'homes' I mentioned above cease to exist, particularly Dreamwidth and the forums -- and I am furious on their behalf that they have been put in the position of choosing between erasing years of thinking and writing and creating and history and memory, or consenting to terms of service utterly at odds with their personal integrity. But written records are really important to me -- so important that I've never deleted a single online account, nor deleted a single post or comment anywhere online, save for correcting typos. I feel really strongly about the endurance of online content, of links continuing to work, of matters of historical record remaining.

The solution I've come up with is to keep my LJ, but, after this post has been mirrored, to disable cross-posting from Dreamwidth. I'm in the process of importing a couple of tiny LJ comms I used to run over to Dreamwidth, and once that's done, I'm unlikely to log back in to LJ again, apart from doing so periodically in order to retain my username. I know a lot of friends on LJ have Dreamwidth accounts, and if you'd like to stay in touch, I'd appreciate if you could add and follow me on Dreamwidth -- I'm
dolorosa_12, the same as on LJ. Those of you who do not yet have Dreamwidth accounts, I'm sorry. I will enable commenting from non-Dreamwidth accounts, so if you want to subscribe and interact without joining, that may be a way to stay in touch. As I said, I'm not going to import any more posts into LJ after this one.

I'm sorry it has come to this.

This entry was originally posted at http://dolorosa-12.dreamwidth.org/387319.html. Please comment there using OpenID.
Sunday, March 26th, 2017
---
6:46 pm
- UK politics: apparently able to make me sick
It was fairly inevitable that I would eventually come down with a cold: this week has been heavy on activities, and short on sleep. As well as going to two back-to-back concerts (one of which necessitated travelling to London after work, and thus not arriving back in Cambridge until after midnight on a work night), I was at yesterday's anti-Brexit march in London, and followed that up with a friend's birthday party in the evening. It seems to have been that, combined with last night's arrival of daylight savings time, that finally brought the cold on. I'm feeling decidedly exhausted, and don't think next week is going to be all that much fun...

The march itself was well attended (estimates put the crowd size at about 100,000, which is not massive, but not terrible), although I'm aware that it's a fairly futile gesture at this point. It mattered to me that I was there — as it has mattered to me that I've been present at other large marches that were nothing more than symbolic, futile gestures to register discontent. No matter how many people showed up at yesterday's march, Article 50 is still going to be triggered on the 29th, and the UK is going to continue on its dangerous course towards isolation, nationalistic extremism, and impoverished decline. But it's precisely for this reason that I felt people's presence at events such as yesterday's march were important: there needed to be a recorded, visible historical record that showed that not everyone in the country was marching in ideological lockstep out of the EU, and that leaving was not done in everyone's name, nor with everyone's consent.

Next week is going to be difficult, particularly for EU friends living in the UK (and their non-EU family members whose immigration status depends on Britain being a member-state of the EU). I wish I could offer words of comfort or courage, but I've got nothing. It's a terrible thing that is happening, a decision made by people who voted to take something away from others, something they'd never understood, never knowingly made use of (the irony being that all the times they did make use of it were invisible to them), and whose value they were unable to perceive.

This entry was originally posted at http://dolorosa-12.dreamwidth.org/236051.html. Please comment there using OpenID.
Sunday, March 19th, 2017
---
2:30 pm
- Adventures elsewhere
This is just a brief post to mention that I have (finally) dusted off my Wordpress blog to write a review of a few books that I've enjoyed recently. The review covers The Rose and the Dagger by Renée Ahdieh, Sorrow's Knot by Erin Bow, and The Song Rising by Samantha Shannon. It's spoiler-free, but given that two of the books reviewed are not the first in their respective series, it does touch on events in earlier books. The review can be found here, and I'm happy to respond to comments either on the original post, or here on LJ/Dreamwidth.

I'm gearing up to nominate some fandoms and characters for Night on Fic Mountain, one of my favourite multi-fandom fic exchanges. It's an exchange for small fandoms (similar to Yuletide, although normally on a slightly smaller scale), and I thoroughly enjoyed it last year when I participated for the first time. I highly recommend it to those of you who participate in fic exchanges. Nominations are currently open, and will be until 31st March. There are more details about the schedule for the exchange here.

This entry was originally posted at http://dolorosa-12.dreamwidth.org/235979.html. Please comment there using OpenID.
Sunday, March 12th, 2017
---
5:31 pm
- Back to the garden
I've been in a sort of hibernation, which is why you haven't seen me around these parts that much. Whenever I get into this state of mind, I tend to retreat back to basics: a lot of cooking, a lot of decorating. I suppose you could call it nesting. This weekend, I added gardening to the mix.

I've been growing a few herbs in our little courtyard garden for several years now: rosemary, thyme, and a mint plant that dies every winter and returns with the spring. This weekend, I also went out and bought a chives plant, some garlic bulbs (the kind that grow over spring and are ready to eat in late summer), and am contemplating adding basil (although I'm dubious about its ability to grow in the English climate), scotch bonnet chili, and radishes. I think that's about the level of my ambition so far, but if these all work out, I might try proper vegetables next year.

It's really important to me to live in a house that actually feels like a home, with pictures and photos on the walls, candles, flowers and pinboards around the house, and growing things everywhere. For years after I moved to the UK, this wasn't possible: I lived in student housing, or moved around so much that I deliberately kept only what could fit into two suitcases, and then my PhD funding ran out and I was living on what I could earn for the twenty hours my visa allowed me to work a week. So I'm deeply grateful to be in a situation where this kind of gardening, nesting and slow building of a home is possible.

Those of you who garden — particularly in the UK or a similar climate — feel free to recommend other herbs and vegetables that you think I should grow. Herbs I use a lot include parsley, coriander and chives, and cook with a lot of chili, garlic and tomatoes, but anything other than that that you think I've missed and that would be easy to grow please tell me about. Any other tips (especially re: gardening techniques, essential equipment etc) would also be gratefully received!

How have your weekends been?

This entry was originally posted at http://dolorosa-12.dreamwidth.org/235663.html. Please comment there using OpenID.
Saturday, February 18th, 2017
---
10:51 am
- I wish this post were unnecessary
Saturday, February 11th, 2017
---
8:03 am
- Three good things
I suppose the benefit of spending every waking moment on Twitter is that eventually, we find out about stuff like the following:


I won a free ebook of Vanessa Fogg's The Lilies of Dawn.



Matthias managed to get all of Max Gladstone's Craft Sequence books for something like £6. The ebooks (never mind the physical copies) of this series are normally extraordinarily expensive, which has meant we haven't been able to read more than the first book, so this is great news.



We also managed to get advance screening tickets to see Hidden Figures today. It's not actually out for general release in the UK until a couple of weeks later.


So all in all, we've got a pretty good weekend lined up. We're also going to be spending this morning trying different wedding cakes at the cake shop, so there's that, too.

(On a weird little tangent, wedding planning is continuing, and we're getting stuff done, but every so often I have a momentary feeling of shock, like I'm nowhere near close to a 'proper adult' who should be doing wedding-related things. To put this into perspective, I'm 32, I've done a PhD, I've emigrated, I work full-time, I teach doctors and nurses and healthcare researchers how to find information that could be life-saving, in the past I have worked in jobs where I've been responsible for up to eighty primary school children, and I've never once had this feeling. It's very odd.)

This entry was originally posted at http://dolorosa-12.dreamwidth.org/235159.html. Please comment there using OpenID.
Sunday, February 5th, 2017
---
2:03 pm
- Panem et circenses
For the first time in about six months, I was able to make it through half a day or so with all thoughts of politics gone from my mind. It was, quite literally, the aforementioned bread and circuses that did the trick.

Last year, Matthias had the brilliant idea to get us tickets to see Cirque du Soleil's Amaluna at the Albert Hall in London. He'd never seen them before. I have been a devoted, obsessive fan of Cirque for thirty years. My mother first took me to one of their shows when I was about two years old; my parents had taken me back to New York for a holiday in the northern summer of 1987 and Mum took me to see Le Cirque Réinventé. I don't remember much from that performance, other than the fact that they had an act where seven people all rode on the same bicycle, but I was absolutely hooked. The trouble was that Cirque didn't do any tours of Australia until the late '90s. It was ten years later, in 1997, before I would get to see them again, when Saltimbanco toured Australia. By this stage, my sister was born, so she came to the show too.

For the next ten years, we saw every Cirque show that toured Australia: Alegria, Dralion, Quidam and Varekai. I taped shows off the TV years before they ever made their way to Australia, and wore out the tapes watching them over and over again; Quidam in particular was deeply important to me. My gymnastics floor routine at one point used the music from the diabolo act from Quidam. My favourite act in that show was the banquine, which I had learnt off by heart years before I ever saw it in real life. When I did finally see that act in real life, I cried because it mattered so much to me. I even ended up working for Cirque at one point — nothing as glamorous as actually performing, but I spent a month or so selling food and drink at the concession stands at their show Varekai during the Canberra leg of their Australian tour, in 2007 when I had finished undergrad, moved back to Canberra, and worked four jobs for about six months. This did nothing to dampen my enthusiasm, although to this day I cannot hear certain songs from the Varekai soundtrack without getting the strong urge to frantically clean the nearest popcorn machine.

Thought I didn't know it at the time, Varekai would be the last show of Cirque's that I watched for ten years — I'd already seen it once in Sydney in 2006, and I got to watch it once for free in 2007 when I was working for the show. In 2008 I moved to the UK, and couldn't afford tickets (also, a lot of the shows that toured Europe during those years were ones I'd already seen). And thus it ended up being ten years before I saw them again.

Seeing Amaluna was an almost religious experience, like coming home. I'd never been to the Albert Hall before, but it was like a gigantic, glittery jewellery box inside, and although we hadn't planned it that way, Matthias and I ended up sitting in our own private box on the second tier.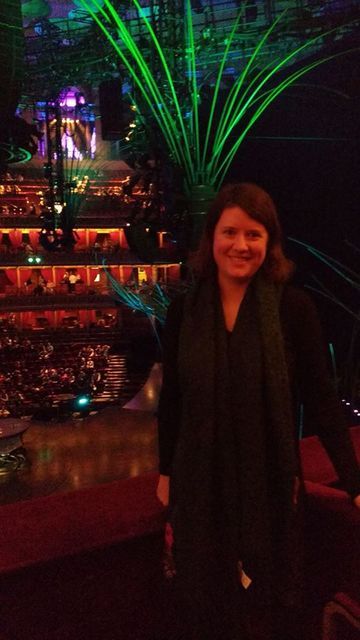 It was pretty great!

Matthias was in utter awe, and it meant a lot to me to be with him while he was watching a Cirque show for the first time. The aesthetic was, as he described it, Nightwish-meets-Mad-Max (with an all-female live band), and some incredible acts. My personal favourites were the hand-balancing, which was done with the added difficulty of a large, human-sized bowl of water into which the balancer kept diving (which meant her hands were slippery with water, and meant she had to time the dives exactly, given that the bowl was not very deep), and an incredible act in which a group of acrobats launched each other into the air from opposite ends of a giant springboard, from which they somersaulted, leapt, and sprang. I had been looking forward to the uneven bars act, which was good, but used quite basic gymnastics moves. (Don't get me wrong, they executed them brilliantly, and they had the added difficulty of sharing the bars with multiple other acrobats, whereas in gymnastics of course the gymnast is on her own on one set of bars.)

I also knew they had a banquine act, and given how much the banquine finale from Quidam meant to me, I had high hopes. The trouble is, being the intense fan that I was, I knew the Quidam act off by heart, beat for beat, move for move, right down to every moment of choreography and even the turns of the performers' heads. So I was gobsmacked to notice, immediately, that the Amaluna banquine was essentially identical to the Quidam one: same moves, same choreography, same movements around the stage. The only differences were that where Quidam's banquine act has a kind of violent, despairing desperation in tone (the choreography is quite aggressive and the performers give off a kind of world-weary, hopeless air), the Amaluna act is more joyful — which actually doesn't work as well with the choreography. The Amaluna performers also didn't attempt the more difficult moves performed by their counterparts in Quidam.

The banquine was not the only act borrowed wholesale from another Cirque show: the jugggling act was lifted entirely from Dralion! I guess they're not anticipating audience members who wore out video tapes watching their earlier shows over and over again. I still loved watching the show, and our seats up high in the middle tier of the theatre were perfect for me, because they gave me a bird's eye view of all the mechanisms going on slightly behind the scenes: tech guys making their way across the scaffolding, performers waiting to be lowered down on wires, the acrobats calling proceedings during group acts, the ways in which dancers distracted from equipment being set up or moved away. This was exactly what my sister and I used to spot and discuss in muttered tones when we watched Cirque shows together as children, and it gave me a great deal of joy. Matthias' amazed enthusiasm for the show and awe at the performers' strength, agility, and the jaw-droppingly incredible things they could do with their bodies also made me ridiculously happy, and I'm so glad to have been able to share something so deeply formative and precious to me with him.

All in all, it was a wonderful day out in London. We also ate lunch at this restaurant, and it was excellent. It's in a great location if you're going to a show at the Albert Hall or seeing an exhibition at one of the museums in Kensington, so I highly recommend it. The food is a little expensive, but there's a set theatre menu which is a bit more reasonably priced, and it has an amazing range of cocktails. It was nice to put the things that are making me anxious and terrified aside, if only for a little while, and exist in a space where everything is Cirque du Soleil and nothing hurts.

This entry was originally posted at http://dolorosa-12.dreamwidth.org/234811.html. Please comment there using OpenID.
Wednesday, January 25th, 2017
---
4:03 pm
- A new comm, and a question
I am very much Not Coping (with, well, take your pick of the conga line of political horrors parading their way around the world), which has made posting (and indeed, being online at all) very difficult. As such, this is going to be brief.

You may have seen this already on your own Dreamwidth feeds, but
inkstone has set up a bullet journalling comm,
bujo, if anyone's interested. I've started using a bullet journal this year; I've always been a dedicated planner, and I'm combining bullet journal use with the online management tool Trello, as well a standard weekly planner, because one form of organiser is never enough!

I also have a question for those of you who regularly participate in fic exchanges. Last year I had a kind of vaguely defined goal to participate in more exchanges than Yuletide, and ended up doing both Night On Fic Mountain, and My Old Fandom (as well as Yuletide). I enjoyed both immensely, and if they run again, I'll definitely be signing up. In fact, I enjoyed writing for those exchanges so much that I'm completely hooked, and want to participate in even more! That's where you come in. I'm asking for recs for fic exchanges that you particularly enjoyed. It probably helps a bit to know more about what I liked about the exchanges in which I've participated thus far:


They were for small fandoms (not big megafandoms) and not fandom-specific


Participants could write gen or shipfic (I think I'd be happy to participate in a gen-only exchange, but to be honest I prefer the flexibility)


The lower word-count limits were low - 1000 words is fine, but a 5000-word lower limit would probably be difficult for me


They weren't happening at the same time as Yuletide, or immediately before or after


Based on those preferences, are there any exchanges you'd particular recommend? I like writing fic that centres on female characters (M/F, F/F, or female character-centric gen), if that helps.

This entry was originally posted at http://dolorosa-12.dreamwidth.org/234527.html. Please comment there using OpenID.
Saturday, January 14th, 2017
---
1:31 pm
- Perspective
I had my PhD viva nearly three years ago now, but it still reverberates in weird ways, even though I've long since left academia.



(

Quick description of how a PhD is examined in the UK, for those who want to knowCollapse

)



I wake up almost every day grateful for the fact that I never have to do another viva again. Some examiners will tell you before you get started that you've passed, although they're not technically supposed to (Matthias' external examiner wanted everything done by the book, so he left the room not knowing if he'd passed or failed). Mine tried to tell me without saying so directly — they said something like, 'before we get started, we want to say that we do have some concerns, but you have nothing to worry about. Now let's talk about your PhD,' which helped a bit, but didn't do much to make the experience any more pleasant. Some friends have told me they enjoyed their vivas, but to this day (and I say this as someone who has had some pretty awful things happen to her), that viva remains the worst two hours of my entire life. A few weeks before it happened, I dreamt that the process would involve lying on a rooftop while two senior Celticist academics shot at me with sniper rifles, just to give you some indication of the state of my mind...

Anyway, you get the idea. I passed, and although I couldn't look at my PhD or my examiners' reports for at least two months after the viva was over, the corrections themselves only took about a week of my time, and I got my PhD, graduated, and got on with a life outside academia. But because I still live in Cambridge, and still have a lot of friends within medieval studies, and because my former department is extremely sociable, I tend to come back from time to time to local conferences, free annual guest lectures, alumni events and so on. And because medieval studies is such a small world (and Celtic Studies an even smaller world within it), I tend to run into my examiners when I least expect it. And, inevitably, I bumped into my internal examiner at a guest lecture late last year. We fell to talking about my viva, and he told me something I found both hilarious, and a great source of perspective.

The entire time that I had been in a state of extreme anxiety and panic, feeling besieged and terrified, he had been in such awe of my external examiner (who, for some reason, he had never met in person before) that he had reacted by being extremely formal, and more critical than he perhaps intended, because he wanted to make a good impression on his fellow examiner. It's odd, but it's nice to know I wasn't the only one in that room feeling scared and overwhelmed!

Anyway, academia. It's a weird little universe.

This entry was originally posted at http://dolorosa-12.dreamwidth.org/234335.html. Please comment there using OpenID.
Saturday, January 7th, 2017
---
3:03 pm
- Crowdsourcing holiday advice
Friends who've spent time in Iceland (either living there or on holiday), I need your help. My mother and I are going there for a holiday for a week in late May, and I'm looking for advice about what to do, where to go, and where to stay.

Things to know about us: we both like very active holidays with a lot of walking and outdoorsy stuff. Although my mother is in her late sixties, she is fitter and healthier than I am — to give you some indication, she swims for about a kilometre almost every day, walks everywhere, and the two of us went on a hiking trip in a very hilly part of Devon and Somerset last year that saw us walk more than 100km in seven days.

We are unlikely to have our own mode of transportation. I don't know how to drive, and she has only ever driven in countries which drive on the left-hand side of the road (and I don't think Icelandic terrain is exactly the best place to start driving on the wrong side of the road).

At present we are weighing up whether to spend the entire trip in Reykjavik and go out on day trips using public transport, spend most of the trip on some kind of extended hiking tour (the kind where you go with guides and as part of a group, not the kind where you go off on your own and carry your own tents), or some combination of the two. Advice about which of these is likely to make the most sense (especially given that it will still be fairly early in the year, and potentially cold/difficult weather) would be greatly appreciated.

All suggestions welcome. If you don't want to post in the comments here, feel free to send me a message.

This entry was originally posted at http://dolorosa-12.dreamwidth.org/234011.html. Please comment there using OpenID.
10:02 am
- Hello new people!
Tuesday, January 3rd, 2017
---
2:20 pm
- New friending meme at Dreamwidth
Monday, January 2nd, 2017
---
12:44 pm
- Yuletide recs
This is the follow up to yesterday's post-reveals post — a bunch of fic from Yuletide 2016 that I really enjoyed. I want to take the opportunity to plug my gift fic again, as it was absolutely amazing.

Tell me in the glance of a hand by
antediluvian
Rating: Mature
Warnings: No Archive Warnings Apply
Word Count: 6270
Characters: Mae Crawford, Nicholas "Nick" Ryves | Hnikarr
Summary: "This is fine," Nick said. "It's defensible."

"Ah yes," Mae said. "That was obviously top of my list of qualities for a first date."

The other recs are in alphabetical order according to fandom.

10 Things I Hate About Reunions by
BryroseA
Fandom: 10 Things I Hate About You (1999)
Rating: Teen and Up Audiences
Warnings: No Archive Warnings Apply
Word Count: 17278
Characters: Bianca Stratford, Kat Stratford, Patrick Verona
Summary: Is there anyone less likely than Katerina Stratford to go to their high school reunion? Well...maybe there is one person.

sweet to mouth and low to sigh by
blindmadness
Fandom: The Demon's Lexicon - Sarah Rees Brennan
Rating: Teen and Up Audiences
Warnings: No Archive Warnings Apply
Word Count: 9815
Characters: Cynthia "Sin" Davies, Mae Crawford, Alan Ryves, Nicholas "Nick" Ryves | Hnikarr, James "Jamie" Crawford, Lydie Davies, Matthias (The Demon's Lexicon), Sebastian "Seb" McFarlane, Toby Davies, Jonathan (The Demon's Lexicon)
Summary: Sin and Mae, seven years later, at a Market that will change their lives (and of six Markets in between).

The Minnow and the Dragon by
raspberryhunter
Fandom: Earthsea - Ursula K. Le Guin
Rating: General Audiences
Warnings: No Archive Warnings Apply
Word Count: 3100
Characters: Yarrow (Earthsea), Vetch (Earthsea)
Summary: Vetch and Yarrow: an afternoon together, a short journey, and what they find at the end of it.

The Greatest City in the World by
Isis
Fandom: The Golem and the Jinni - Helene Wecker
Rating: General Audiences
Warnings: General Audiences
Word Count: 2748
Characters: Ahmad (The Golem and the Jinni), Chava (The Golem and the Jinni)
Summary: The Golem and the Jinni, over the years.

The Big Picture by
Pugglemuggle
Fandom: Sense8
Rating: General Audiences
Warnings: No Archive Warnings Apply
Word Count: 3781
Characters: Hernando (Sense8), Amanita (Sense8), Felix Brenner, Daniela Velasquez, Jela (Sense8)
Summary: The Normals get together to make a special gift for the cluster's birthday. The Sensates can't exactly plan their own surprises, now can they?

Living Wild As Nature Intended by
Sixthlight
Fandom: What We Do In The Shadows
Rating: Teen and Up Audiences
Warnings: No Archive Warnings Apply
Word Count: 4263
Characters: Stu (What We Do in the Shadows), Nick (What We Do In the Shadows), Viago (What We Do in the Shadows)
Summary: Viago wants to see a kiwi, Nick wants to improve Wellington's craft beer, and Stu just wants to get through the evening without any fatalities. One out of three isn't bad, right?

I hope everyone had a great Yuletide. If you have any other fics from the collection that you particularly enjoyed, feel free to link them in the comments!

This entry was originally posted at http://dolorosa-12.dreamwidth.org/233241.html. Please comment there using OpenID.
Sunday, January 1st, 2017
---
3:03 pm
- Yuletide reveals
I was planning to do a combined reveals and recs post, but I'm feeling a bit under the weather, and I think I'll leave the recs until tomorrow, when I'm feeling better and more able to write coherent recs.

I wrote four fics this year. I had always been intending to write at least one treat on top of my assignment, as one of my goals for 2016 had been to push myself a bit more with my writing. All the four fics seem to have been well received, and overall I feel I had a great Yuletide.

My assignment was for
neuxue, and we matched on Robin McKinley's Sunshine. The following fic is the result:

Dappled Light by
Dolorosa
Fandom: Sunshine - Robin McKinley
Rating: General Audiences
Warnings: No Archive Warnings Apply
Word Count: 2709
Characters: Rae "Sunshine" Seddon, Mel (Sunshine), Original Characters
Summary: In the wake of her confrontation with Bo and unsettling alliance with Con, Sunshine needs time to come to terms with her newer, darker powers, and her fears for the future. She finds help in an unexpected quarter. This story takes place shortly after the events of Sunshine.

I also wrote the other Sunshine fic this Yuletide, as a treat for
corbae.

Like Bitter Chocolate by
Dolorosa
Fandom: Sunshine - Robin McKinley
Rating: General Audiences
Warnings: No Archive Warnings Apply
Word Count: 4354
Characters: Rae "Sunshine" Seddon, Mel (Sunshine), Constantine (Sunshine), Charlie Seddon, Aimil (Sunshine), Yolande (Sunshine), Pat (Sunshine)
Summary: Five times Sunshine stuck to the recipe, and one time she didn't. Post-Sunshine.

As soon as I noticed that someone had requested The Pagan Chronicles who wasn't me, I knew I had to write for them. It really is one of my most beloved fandoms of the heart, and it's always miraculous to find a fellow fan, especially someone who likes it enough to want fic, so I was really happy to be able to write a treat for
Chocolatepot. I ended up writing a short, canon-divergent AU, and I enjoyed writing it so much that I'm considering continuing the story in a new fic or series of fics.

Shells on the Road by
Dolorosa
Fandom: Pagan Chronicles - Catherine Jinks
Rating: General Audiences
Warnings: No Archive Warnings Apply
Word Count: 1217
Characters: Pagan Kidrouk, Isidore Orbus, Babylonne Kidrouk
Summary: Pagan and Isidore have rescued Babylonne from a lifetime of drudgery and terrible relatives. Now the trio are on the run, heading west towards the pilgrimage route of Santiago de Compostela. Babylonne is dubious about the benefits of horse-riding, Pagan is relishing every opportunity for an argument, and Isidore is longing for a return to a life of bookish, peaceful contemplation.

It seems to have become something of a tradition for me to write Wise Child fic during Yuletide — I've been participating now for three years, and for the first two years I was assigned to write a gift in this fandom. This year, I decided not to offer it, but
Merriman's prompt grabbed me, and I ended up writing the longest fic I have ever written. It's based very loosely on the medieval Irish tale Tochmarc Étaíne ('The Wooing of Étaín'), and I absolutely loved writing it. (In my head it sort of exists in the same universe as the other two fics I've written for this fandom — both mention Trewyn going to Ireland and doing doran work for kings there — but all three are self-contained and make sense if read in isolation.)

On the Boundary Walls by
Dolorosa
Fandom: Wise Child Series - Monica Furlong
Rating: General Audiences
Warnings: No Archive Warnings Apply
Word Count: 8009
Characters: Trewyn (Wise Child Series), Juniper (Wise Child Series), Angharad of the West (Wise Child Series)
Summary: After several years spent roaming around Britain together, Juniper and Trewyn part ways. Trewyn's journey takes her to Ireland, where she travels strange paths. This story occurs between the events of Juniper and Wise Child.

I would be remiss if I didn't mention my absolutely marvellous gift, written for me by
antediluvian, which made me ridiculously happy. I've been requesting Demon's Lexicon fic for several exchanges without luck, and had actually given up on nominating or requesting it. It wasn't in my original list of requests, but as I was editing my sign-up, I noticed the fandom in the list of nominated fandoms, and added it into my request on a whim. The fic I received was perfect — my author managed to include all of my prompts, and really got why I loved this canon in the first place. I'm planning to spend the rest of the afternoon going through their other fic and seeing if they've written anything else I like.

Tell me in the glance of a hand by
antediluvian
Rating: Mature
Warnings: No Archive Warnings Apply
Word Count: 6270
Characters: Mae Crawford, Nicholas "Nick" Ryves | Hnikarr
Summary: "This is fine," Nick said. "It's defensible."

"Ah yes," Mae said. "That was obviously top of my list of qualities for a first date."

I hope those of you who did Yuletide this year had as great a Yuletide as I did!

This entry was originally posted at http://dolorosa-12.dreamwidth.org/233197.html. Please comment there using OpenID.
Saturday, December 31st, 2016
---
11:13 am
- Into the light at the end of the road: the 2016 meme
10:40 am
- The end will come like an iceberg
I am about to write up my annual 'year in review' post, but because this year has been A Lot, I had some things to say that weren't going to be covered by a Q-and-A-style meme about favourite songs and best new TV shows of 2016. I'm always very contemplative at this time of year, and over the past few days I've been thinking a lot about stories.

I haven't really felt genuinely happy since June 24th this year. However, I managed to struggle on for a few months after the EU referendum result by telling myself, pretty much every day, 'I can live with the Leave vote, as long as Hillary Clinton wins the US election in November.' Well, we all know how that went. I didn't sleep much for the whole month of November, and the activities of daily life, of planning for the future, seemed utterly futile. What was the point of the next cohort of NHS doctors knowing how to search databases, or of healthcare researchers managing their data or conducting a systematic review properly? What was the point of planning a wedding, or growing a garden, or meeting up with friends, or cleaning the house? I remember very little of November, just this kind of dampening fog of despair, interspersed with flashes of fear and worry about how to help distant friends.

And then I went to the cinema, and watched Rogue One. It's not a perfect movie — it's not even a perfect Star Wars movie — but it is the story of a ragtag found family of misfits, finding courage in each other, choosing to fight against incredible odds and an overwhelmingly technologically and numerically superior enemy. More importantly to me, it's about people making a choice in the face of utter hopelessness and despair, and the knowledge that they are unlikely to live to see the results of their actions, to save the world for others, when they know they will not be able to save it for themselves.

This brought me back to myself, not because I believe I would be one to emulate those characters' actions — I've never been tested in this way, but I am pretty certain I do not have that kind of moral courage — but because it reminded me of the comfort and consolation and power of stories, and of the stories that I carry around with me like a kind of personal canon.

And then I remembered the five wives of Fury Road, a quintet of traumatised and violated women, making common cause, fighting back against oppression and exploitation and a misogynistic death cult, asserting 'We are not things' as they build a better world.

I remembered the clones of Orphan Black, women supporting other women as they reclaimed control over their own lives and choices and bodies. I remembered Jessica Jones, another abused, exploited woman, bringing herself out of the pit of despair by protecting and saving other people.

I remembered the characters of Station Eleven choosing, in a blighted, postapocalyptic world, to create libraries, make music, and become a band of travelling players performing Shakespeare, because 'survival is insufficient.' I remembered the children of Space Demons giving up the gun and dreaming of a world of peace and plenty.

I remembered Pagan Kidrouk, Isidore Orbus, and Babylonne Kidrouk learning, loving, and living fiercely, carving out spaces of tolerance, pluralism and integrity in a world slowing crushing such spaces in favour of extremism and ideological uniformity. I remembered the characters of The Lions of Al-Rassan doing the same.

I remembered Noviana Una, organising a rebellion against an oppressive empire from within a twenty-first-century Library of Alexandria, and leading a mob of the dispossessed, abused women and traumatised military conscripts, to confront a violent, misogynistic, abusive, all powerful ruler. And above all, I remembered the story that started everything, that has taught and given me so much, and was the first one that ever told me, 'Tell them stories. They need the truth you must tell them true stories, and everything will be well, just tell them stories.'

Your stories will be different to mine. They may not be in books and films and TV shows. They may not be fictional. They may not be stories at all. Whatever they are, I hope you find them, and find strength and comfort and courage in them. We are going to need all those things in the coming year, and we must draw on what we can to get them. Happy 2017, everyone. Love, hope, and stories to you all.

This entry was originally posted at http://dolorosa-12.dreamwidth.org/232692.html. Please comment there using OpenID.
Thursday, December 22nd, 2016
---
6:24 pm
- December talking meme - Day 17
schneefink asked me to post about fannish things I read/watch to cheer myself up. As I tend not to reread fanfic, I've chosen to interpret this as 'media that I feel fannish about, which I read/watch to cheer myself up.'

My ultimate comfort reread is the Pagan Chronicles series by Catherine Jinks, which I have read so many times that the spines of my books are split and cracked, and the pages are torn in places. I almost know them by heart, to the point that when I read them I'm no longer sure if I'm actually reading the sentences, or completing them myself in my head. This series is like the written equivalent of a warm blanket, and the best thing about it is it can be enjoyed on many levels.

On one level, it's a Monty Pythonesque piece of historical fiction, set in Jerusalem during the Third Crusade and Languedoc in the late twelfth-early thirteenth centuries, hilarious and poignant, and well researched. On another, it's a series of interrelated coming-of-age stories, about dispossessed, damaged, orphaned people mentoring and learning from one another and healing each others' brokenness. In fannish terms, it is the published equivalent of emotional hurt-comfort. Its characters are like old friends; they've been with me since I was ten years old, and I'm not embarrassed to admit that I've occasionally imagined them at my side during times of difficult, fear or anger. It's always helped.

In terms of TV shows, Buffy is the one I always come back to, for similar reasons. Over the years I've liked different things about the show, and learnt different things from it, and identified with different aspects, but it's always been a constant. I rewatched the whole series while writing my Honours thesis,
losseniaiel and I picked out individual episodes to watch over the course of our MPhil year (and this was, in fact, how we came to be such good friends during that time), and the first thing I did when I submitted my PhD was sit on the couch and watch Buffy.

As I said before, I don't really reread or rewatch fanworks, but I do adore the fanvid 'Starships', because it's such a heartfelt celebration of fannishness — what it is to feel so deeply about stories that you seek out like-minded people to discuss, explore, and remake them — and it just makes me really happy. I rewatch it from time to time, and it always lifts my spirits.



Apologies for the lateness of this post. Life just caught up with me a bit, and before I knew it, it was the end of term.

This entry was originally posted at http://dolorosa-12.dreamwidth.org/232004.html. Please comment there using OpenID.